ID Legislation
ASID's One Voice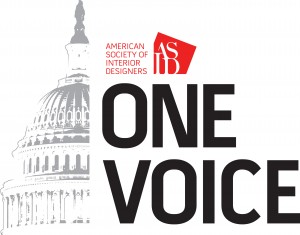 Each day we use our voices and visions to reshape spaces – and the lives of those occupying them – for the better. With those same voices working in unison, we have the power to design a better future for ourselves and for our entire profession.
To do that, every interior designer, soft or loud spoken, must speak up about the issues that affect their ability to practice interior design.
Let's design our future. Join your voice with the thousands of voices of interior designers across the country. LEARN MORE HERE or TEXT "One Voice" to 52886.
From small business owners to large firms, residential to commercial, the future of our profession will be heavily influenced by government decisions. Right now, elected officials are having conversations on issues that affect your lives and careers. That's why ASID has established One Voice.
One Voice is every interior designer's platform - residential, commercial, or Industry Partner, ASID member or non-ASID member - to be heard by their elected officials from the state capital all the way to Washington, D.C. No matter your age or where you are in your career, your voice matters.
The Society & Interior Design Legislation
Of all the opportunities now facing interior design professionals, the movement to secure interior designers' right to practice is among the most significant.
ASID is the interior design profession's leader for the advocacy of interior design right-to-practice issues, building codes, public health, safety and welfare concerns, and other governmental issues relevant to the interior design profession.
ASID has a full-time government and public affairs staff that includes three lobbyists registered with the U.S. House of Representatives and U.S. Senate. ASID staff works with a board-appointed volunteer council – the ASID Government & Public Affairs Council – to forward the Society's legislative and codes objectives.
Go here to learn more and take action.