Otto Zenke Student Design Awards
Congratulations to our 2019-20 Otto Zenke Award Winners
The votes are in and we have our 2019-20 Otto Zenke Student Design Competition award winners. The winners were announced Friday, March 27th at 1:00 PM via live video conference. You can view the list of winners below as well a digital version of their award winning projects (PDF) at the "Read more" links.
Congratulations to all of our winners and thank you to our awards judges, committee members and ASID Carolinas staff.

2019-20 Otto Zenke Winners
First Place
Appalachian State University
First Place
Click here to view Issac's first place winning project.
About the Otto Zenke Student Design Competition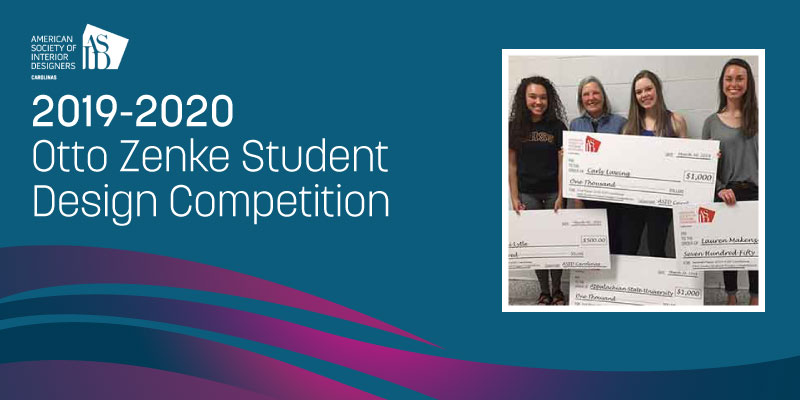 Each year, this competition asks students to design an awe-inspiring project based on certain criteria for the judges to consider. This award gives both scholars and their programs the opportunity to showcase their creativity, professionalism and the chance to win scholarship money along with recognition throughout the Carolinas.
Projects submitted must be produced individually and can be Residential, Commercial, or Mixed-use in nature. Group projects are not eligible for submission. Any projects entered in other competitions, local or national, are not eligible for submission. The minimum project square footage is 2800 square feet. Evaluation of your design will be based on how creatively and successfully you have accomplished the objectives within the restrictions/criteria for the design.
Any undergraduate student enrolled in an Interior Design or Interior Architecture program in North or South Carolina can enter the contest and be given an award with or without a student ASID membership. If a student is awarded the top award, a matching award will be given to the design program if the school has an active ASID Student Chapter.
Past Award Winners
Based on our award selection criteria the winners of the 2018-19 Otto Zenke awards are:
Carly Lawing -- FIRST PLACE & $1,000
Appalachian State University -- FIRST PLACE & $1,000
Lauren Makenzie Halford -- SECOND PLACE & $750
Naomi Lytle -- THIRD PLACE & $500
Morgan Sotto -- HONORABLE MENTION
"Genius is 1% inspiration, 99% perspiration."
- Thomas Edison
"Only those who attempt the absurd can achieve the impossible."
- Albert Einstein