Quarterly E-Newsletters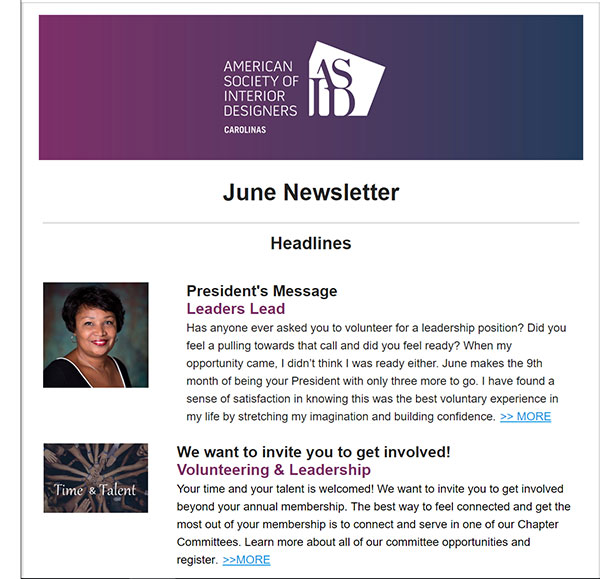 Stay updated on the latest chapter happenings with the Carolinas chapter e-newsletter, which covers time-sensitive news and events affecting our chapter and industry. The e-newsletter is emailed to all ASID Carolinas members – i.e., Designers, Educators, Students, and Industry Partners – quarterly.
All events listed on the Chapter Event Calendar will automatically appear in that month's e-newsletter.
If you are an ASID Carolinas Chapter leader – e.g., Chapter Board member, Design Community leader, Other Leader or Volunteer, or Student Chapter Leader – and would like to submit news not applicable forthe calendar, simply contact Carolinas Chapter E-Newsletter Chair, Dallas Till, for inclusion: communications@nc-sc.asid.org.
Quarterly E-Newsletter Archives
Monthly E-Newsletter Archives:
"Knowledge is power. Information is liberating. Education is the premise of progress, in every society, in every family."
- Kofi Annan
"Information is the oxygen of the modern age."
- Ronald Reagan
"Intelligence is not the ability to store information, but to know where to find it."
- Albert Einstein