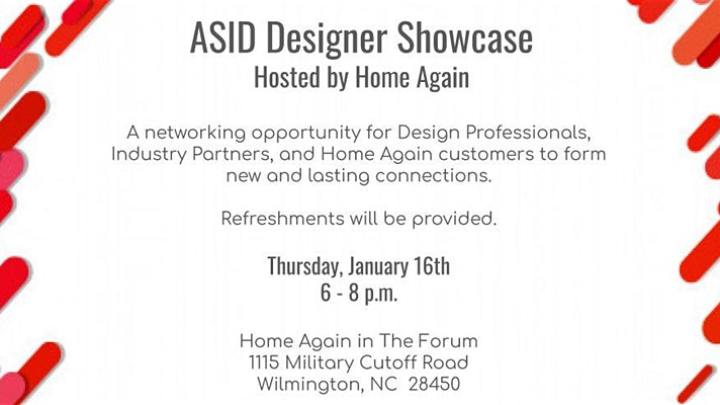 Coastal NC - ASID Designer Showcase at Home Again in The Forum
Description
ASID Designers and Industry Partners from across the region are invited to attend this Meet-and-Greet event at Home Again in Wilmington, NC.

This is an opportunity to meet Home Again customers who are searching for professional design help. Participants may choose to set up a showcase space including informational boards, brochures, presentations, etc., or simply come prepared to meet potential clients with a handshake and a business card.
Wine and Refreshments will be served, and there will be a raffle and designer giveaways!
Students are welcome to attend to network with participating members or inquire about possible internships/job openings.
Participants should arrive between 4:30 and 6pm to set up their spaces.
Space is limited - please RSVP as early as possible so the floor space needed can be measured and allocated. Adjustments will be made within the venue as necessary. You will be contacted prior to the event with more details.
RSVP Deadline: January 9th
Event Contacts:
Daryl Rosenbaum (910)616-4374 Daryl@design-results.com
Haley Hufton (910)679-4302 Haleyhufton@gmail.com