A Successful Student Event!
By Kayla LaChance, ASID Carolinas Student Affairs Director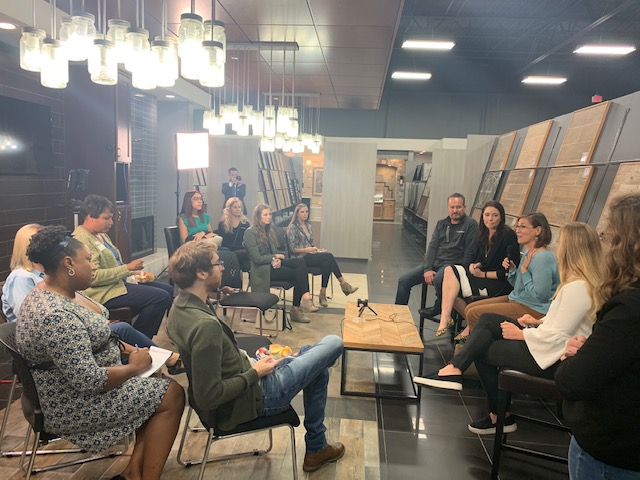 Design students of the Carolinas, along with several ASID members and design professionals, gathered on Friday, October 25th for an exciting and informative Student Mixer. The event, created to introduce students to ASID and the professional world of design, took place at The Tile Shop in Matthews and was hosted by Showroom Manager and Metrolina Design Community Chair Julie Russi.
While there, students met several designers and sales representatives, learned about tiles and their various applications from Pro Market Manager Corey Daigle, created their own master bathroom design, and sat in on a Q&A panel featuring designers Fran Smith and Michelle Daigle, Showroom Manager Glenn McFadden, and the Student Representative to the Board of ASID Carolinas, Grace McCormick. Other attendees included Chapter President Margot Olson and Past-President Shane Jones, who have both worked during their terms to strengthen the relationship between design students and ASID. The event was well-attended and well-received, and more student events like it will be happening in the near future.
If you are interested in learning more about these events or joining ASID as a student, please email Student Affairs Director Kayla LaChance at kaylalachance93@gmail.com, or go to https://www.asid.org/belong/student/benefits for more information.
Follow this link to view additional photos from the event.