Member Spotlight: Emmy Williams and Emily Conn
Get To Know Emmy Williams and Emily Conn!
---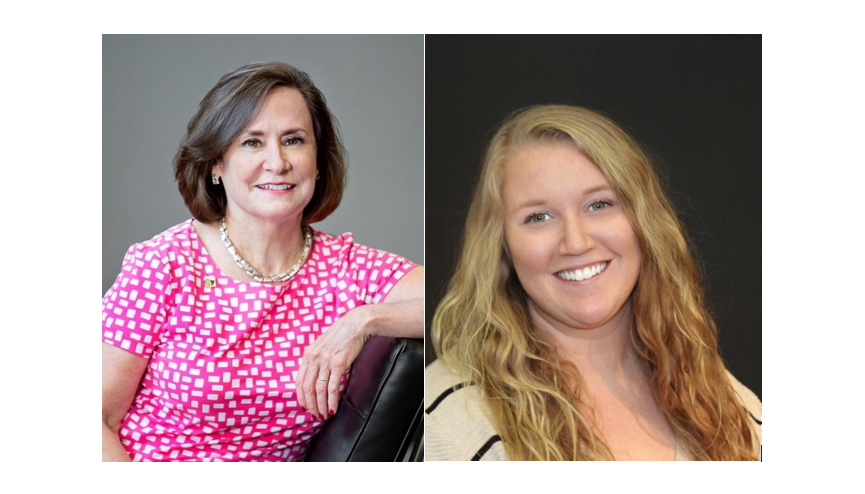 Emmy Knot Williams Emily Conn
President/ Owner Student Rep to the Board & Awards Chair
Interior Solutions Tom Stringer Design Partners (Interning)
Winston-Salem, NC Chicago, IL
How long have you been practicing in the Carolinas and what kind of design work do you focus on.
What are you passionate about?
Emmy: "Immediately after college graduation, I worked for a design firm in Winston-Salem, NC. Then I went to Atlanta and New York City to practice. I enjoyed all of the places I have worked but I love calling W-S home and being part of the Carolinas Chapter.
As a commercial interior designer my focus has changed during my career. I have moved from designing stock exchange trading floors to now working on law firms and CCRC's."
When did you become an ASID member and what are some of the roles or position you've held while a
member?
Emmy: "I held the position of Treasurer of our chapter. I moved to NC, and because I had such a positive student member experience, I joined ASID as a professional. The most rewarding position was the opportunity to serve as chapter president. That position allowed me to work with many great people, engage with national, and to grow professionally. It led to the opportunity to work on national committees like the Marketing and Communications Council and the Government and Public Affairs Committee."
As Government Affairs Chair, can you share insight on our Chapter's legislation efforts?​
Emmy: "ASID is in our third year of pursuing NC legislation. The bill is designed to enhance the careers of interior designers by allowing them to utilize more of their education and skills. Our advocacy team, representing ASID and IIDA, is working hard to open up communication with other design professionals such as architects and engineers. This communication has improved the bill language. Our bill sponsor and our lobbyist are key principals to the bill's progress. The involvement of our own Bryan Soukup, Esq., from national ASID, brings exceptional leadership and direction to our team. We have a great team working hard and moving forward with positive steps towards the success of our NC bill."
As you know we impact lives everyday as design professionals, how is legislation impacting our businesses as
designers?
Emmy: "Legislation is one of the ways that ASID touches our everyday lives as designers. When legislation passes in NC, we will be able to offer a broader range of services to our clients. This is a huge win for our clients as well as a big positive for our businesses."
As Government Affairs Chair, what are you passionate about and can you share insight on Chapter's
legislation efforts?
Emmy: "My first opportunity to be involved in legislation was in 2006- 2008 when working on the NC Sales Tax issue. That is when I realized my passion for working to protect and improve the opportunities for interior designers in NC. Today it is a joy to work with our advocacy team as we focus on interior designer's right to practice. I enjoy meeting with the Legislators and building their awareness of the profession of interior design. I love seeing our team effort impact the progress of our bill and the lives of interior designers. "
Additional Comments:
Emmy: "What I have gained from ASID has been far greater than what I have given! I encourage each member to embrace this organization and to find your way to be involved. ASID provides a wonderful experience, which you do not want to miss!"
---
What helped your decision to belong to ASID and how long have you been a student member?
Emily: "Nicole Long was the SRB when I was first accepted into the Interior Design program at Appalachian State University and always went out of her way to include me in ASID events. We went to the One Voice on the Hill day 3 years ago and I fell in love with advocating for the profession. It taught me how to manage the misinterpretations in the industry of what designers do verses what the public thinks we do. I learned how to educate the people in my life about the impacts of design. "
What kind of value did you place on your former school program and what would you suggest to other design
students?
Emily: "I was very close with the people in my program and they became my family. The connections you make with your peers and professors in college matter. Even if you don't stay in touch, you've left an impression in their minds that may affect you later in your career. Stay positive in everything you do and don't be afraid to reach out to mentors! "
Did you have any influencers along the way and what made them stand out to you?
Emily: "I feel incredibly lucky to have some real powerhouse ladies in my life. Susan Carson and Emmy Williams are on the Carolinas advocacy committee and have taught me so much about speaking up and the dedication it takes to make changes in legislation. Shane Jones, Rebecca Compton and Olivia Leyland taught me how to never meet a stranger plus have confidence in my networking abilities. They all have this fire in their hearts for design that is contagious. I could truly say something about every member on the board and how they have impacted my life."
As the old adage goes, you get out what you put in. Your service to the board has been invaluable, is there
anything else you would like to share?
Emily: "I wish I could recreate the experience I've had in the Carolinas Chapter for every design student in the world. It sounds cheesy but it has changed my life and is continuing to do so. I just moved to Chicago and even far from home, I've already got a community of designers who are passionate about helping me grow as an emerging professional and it has made this chapter of my life a lot less scary and a lot more fun! I'm thankful for all of the experiences it has created. "
What are your future plans and how does ASID play a part in it?
Emily: "I intend to stay in Chicago for a while and take advantage of all the amazing opportunities the industry has to offer. ASID will always be a big part of my life and I want to be a chapter president someday. My mentor in Chicago, John Cialone is a current chapter president who will be transitioning into a national board position this Fall. I already know that I want to follow in his footsteps and inspire students the way he has me. "